About Us
Products
Product Categories
Brands
Technical Information
Links
Stock Clearance
Contact Us
Sitemap
HeliCoil Power Tools are specially designed for use in high volume production. The advantages of using them lie not only in their speed of operation but also in their accuracy and precision during insert installation. They can minimise production costs by dramatically reducing the time needed for installing large quantities of HeliCoil screw thread inserts.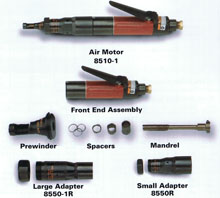 This Power Tool speeds up installation speed & assembly, eliminates waste, and permits an accurate count of inserts. It allows for rapid installation of both standard free running and screw-lock inserts.

It can be hand held, vertically or horizontally mounted onto a Pneumatic Power Tool Holder, or adapted to both semi-automatic and fully automatic installation stations.

The threaded mandrel system of the Pneumatic Power Tool eliminates the possibility of cross threading or jamming of the wire insert during installation as the insert is pitch controlled as it moves from the tool to the workpiece via the threaded mandrel. This ensures a precise assembly, each and every time.

It comprises of:
Reversible air motor
Adaptor
Front end assembly (prewinder, mandrel, and spacer sets)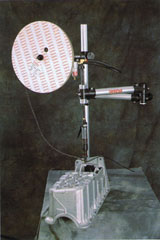 For perfect angle alignment and support of the Pneumatic Power Tool, the use of the Pneumatic Power Tool Holder is highly recommended. This tool can be used with or without strip feed inserts and is recommended for use with smaller sized inserts such as 2-56 & M2.5 & below the small sizes of these inserts make manual handling difficult.

It can be bolted or clamped to the workbench to create a compact workstation. The air motor is attached to a spring loaded air tube at the end of a movable arm. A mounting arm is also provided for attaching reels of strip feed inserts. This power tool holder configuration ensures accurate vertical (square to work surface) installation of HeliCoil inserts in relatively large parts.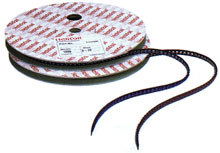 For even greater productivity during high volume production, HeliCoil screw thread inserts can be supplied in reels of plastic tape known as Strip Feed Inserts. The inserts are held securely in the reels of plastic tape and neatly coiled into reels. Hence, the insert is positioned properly for installation each and every time, eliminating time spent on manual positioning of the inserts.

When used with the Pneumatic Power Tool, Strip Feed Inserts speed up assembly, eliminates cumbersome manual handling of each insert, eliminates incidents of dropped inserts, and facilitates counting of inserts.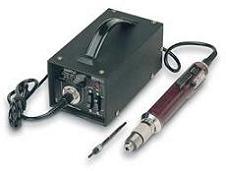 The Electric Power Tool is a fully automatic tool with forward and reverse motions in a single lever action. The tool meets the requirements of clean room operations and is low in noise when in operation. The Electric Power Tool is also light in weight and the slender configuration of the mandrels allows users to reach into constricted areas.